SCENAR therapy is medical technology
 

About Workshops and Professional Training

The objective of natural healing is to assist the body to heal itself , this is the " fundamental base of my training programme". Neuro-stimulation using a SCENAR or similar device not only provides direct therapeutic relief for all types of pain, but also activates the natural healing defences of the body. The effect is achieved through stimulation of trigger points on the skin surface as revealed and guided by the actions of the application. Impulses stimulate neural pathways via these active points restoring communication of homeostatic interrelationships between the body systems. Bio-feedback neuro-stimulation combined with Applied Kinesiology is an effective, non-invasive and advanced restorative form of electro-therapy not only for chronic pain, injury and repair but in restoring energy and balance. In my experience by stimulating the body's own inherent self healing mechanism via neuro-reflex and acupressure points we can influence the mind body connection to improve range in movement, gain awareness and control of our emotional wellbeing and health. Courses and Workshops: SCENAR Byron Bay provides regular training workshops in the use and application of both the professional and personal/home SCENAR or similar interactive bio feedback device. You learn simple yet very effective techniques to assist and speed up the body's process into recovery. The treatment protocols and methods are specific to health conditions that effect people of all ages today. The training courses are designed to provide new skills for practitioners to further enhance client/patient outcome and success. Regular one day workshops are also held to provide a greater understanding in the use settings for those with a personal/home device. The methods can be used in combination with other Holistic complimentery health modalities and in combination with medication. Duty of care requires you not treat a patient/client in any case which exceeds her or his capacity, training, and competence . In my course we will look on how organ systems communicate and influence each other , the limbic system and the boss of overall integration of ANS. .The Emotional self is at-one with the symptom "Our body is functioning as a whole living organism ". It does not exist of parts , all your body system functions are involved in regulating, restoring and maintaining " homeostasis " All this requires ENERGY which we cover in the course. © Anna Heiskari
WHAT IS SCENAR THERAPY
Extraordinary results

SCENAR Therapy is a unique and revolutionary therapy for all types of pain and injuries. SCENAR therapy works two ways to promote rapid healing and provide pain relief, even with stubborn and chronic pain. The interactive electro therapy device uses advanced medical technology to send signals from the the site of Pain or Injury directly to the brain.. The electromagnetic signal travels along nerve fibres ( " C " fibres ) to the brain , resulting in the production off neuropeptides which rapidly support advances healing . SCENAR therapy also triggers the brain to release powerful pain relieving substances called Endorphins into the blood stream .
SCENAR Therapy is Holistic

Benefits

'Holistic Pain relief therapy'  Effective pain relief for all types of pain , swelling, and inflammation.  Accelerated healing, Reduction and/or elimination of pain leading to increased range of movement. Improvement in quality sleep, and complimentary with other forms of therapy.

 
The device does not itself
The SCENAR device does not itself heal, what it does do is to stimulate the body to heal itself using the bodies' own natural resources and processes by focusing the brain on specific areas of pain or problem and accelerating the recovery process. When the device is applied to the skin, the patient will experience a tingling or prickling sensation as the signal penetrates the skin by just a fraction of a millimetre as the device loads the synapses of the patient's nervous system. As the brain detects pain or dysfunction in the area it triggers the synapses and releases the signal from the device to the brain and the brain corresponds back to the machine. Unlike its'  cousin the TENS machine, the neuro-stimulation biofeedback device generates a unique signal each time in order to keep the brains' attention and directs, focuses and accelerates the body's own resources and processes towards the area of pain or dysfunction. Results have shown significant reduction in pain , at times total relief and prolonged improvement during and after treatment. Scientific studies in Russia on athletes such as Natalia Khrushcheleva and Julia Nosova indicated that with treatment 'right after the training sessions promotes faster recovery and revitalizing of the body and makes it possible for sportsmen to have sports season without injuries and always be in optimal fitness and shape'. Since arriving in Australia, SCENAR Therapy has been endorsed by a range of athletes including Layne Beachley, Craig Goozee, Barry Golding, Nathan & Jason Cayless and credited with aiding their recovery Whether you are just getting started to improve fitness, preparing for sporting events, or need a quicker recovery for work from injury, SCENAR Therapy could just be the edge , the solution you need.
Indications

Click here to learn more

The SCENAR device is used for delivering non-invasive therapeutic treatment on the skin to regulate physiologic systems of the body in order to relieve and manage different pain-related pathologies. 1.1. INDICATIONS WITH REGARD TO PAIN RELATED TO: SCENAR devices are indicated to be used in professional medicine and at home in the following cases: • to analgesic therapies in pains in bones, muscles, joints and ligaments; • to manage acute and chronic back pain; • to treat primary dysmenorrhea; • for procedural pain management after timed endometrial biopsy; • to alleviate attacks and for course treatment of trigeminal neuralgia; • to relieve pain in diabetic neuropathy (diabetic foot); • to relieve pain in postherpetic neuralgia concurrently with antiviral drug therapy; • for pain relief in chronic/recurrent headaches and tension-related headaches.
Contraindications

Click here to learn more

1.2. CONTRAINDICATIONS/PATIENTS NOT SUITABLE FOR SCENAR TREATMENT • Overly sensitive individuals, including pregnant women. • Patients with cardiac pacemakers. • Alcoholic intoxicated individuals. • Patients with acute infection diseases.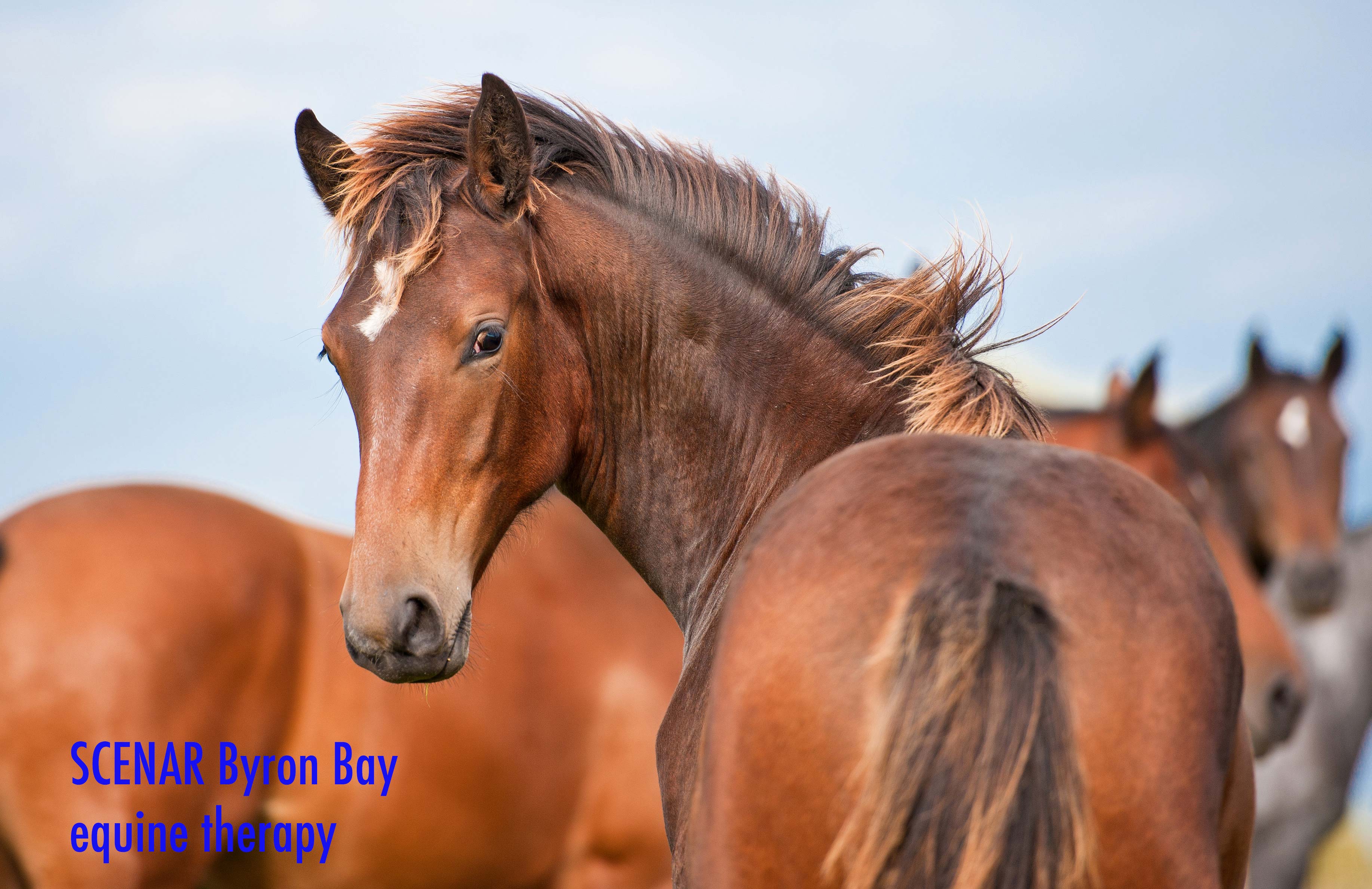 SCENAR Therapy for Horses
This is a holistic non-invasive , effective electro-therapy that will provide a therapeutic effect . Applied via the skin to stimulate acupuncture and reflex points to support and regulate the body's systems to stay in working order, such as helping the body's natural immune system to repair or similarly, assisting the lymphatic system and pathways of elimination , which could be be affected in such circumstances by a build up of toxins, due to lack of movement. SCENAR therapy can also help the rider with common complaints such as . Lower back pain ,Injuries , shoulders and neck tension and Pelvic and hip conditions
Disclaimer: The purpose of this information is to describe the technology, use, safety and effectiveness of SCENAR therapy and should not be considered complete or take the place of a consultation with a physician or competent healthcare professional for medical diagnosis and or treatment/training. While every effort has been made to ensure the accuracy of information .Anna Heiskari collector of this information disclaims any responsibility for any results of the application. No information is intended or should be used as a substitute for professional medical advice. The information contained is based on research and anecdotal experience carried out by Russian scientists and the founders of SCENAR therapy, Y. Gorfinkel, A. Revenko, and Y. Grinberg.
Ⓒ Copyright 2014 – 2018 SCENAR Byron Bay . All Rights Reserved